Family - Fun - Flexibility
Working from home is perfect for all kinds of lifestyles, for example if you're a student looking to earn whilst studying. It's not just students who can work from home. Mums and dads can too! And it doesn't matter if you don't have any experience either. There are plenty of online courses available which will teach you everything you need to know.
There are many ways to work from home, so it's important to find one that suits your needs. For example, if you want to keep your day job, then you'll need to find a remote working solution that allows you to do this without affecting your employer. A lot of companies will allow employees to work remotely part of the week, but they may not be flexible enough to let you do this each day.
The best part of working from home is being able to balance work around family life which means you don't have to sacrifice one for the other. This flexibility allows you to look after yourself and your loved ones without feeling guilty.
The flexibility of home working and completing paid surveys with us provides an ideal way to put a little extra in your pocket without having to fully commit your time every day as you would with a "normal" job. Earn as you please, whenever you have a spare few minutes! Over a period of time you can earn extra cash from your participation in online surveys.
The idea of working from home may seem like it's out of reach for many people but there are lots of ways to make this happen. Some people choose to start by making money online and then build their business into something they love. Others might prefer to start small by offering one service before expanding into others. Either way, there are plenty of opportunities available if you know where to look.
Being with, or at least nearby family and still being able to earn is another attractive feature of home working. It can be comforting to those who have people close to them who are highly dependent on their care/presence. For example, parents with young children. Juggle family life and commitments all whilst earning online.
There's nothing like having a flexible schedule and being able to choose when you wake up and when you go to bed. But it does require a certain degree of discipline if you don't want to end up doing nothing but sitting in front of the computer all day.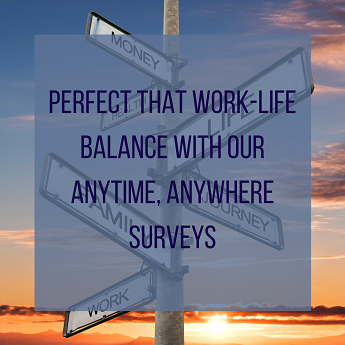 Create a routine.
Make the most of your available time online and set aside a few hours each day to focus on your work.
Find the best time and place to work.
Work out where and when suits your own needs. It may be you can find time first thing in the morning or last thing in the evenings, or on your commute home if you take public transport. Or even when while waiting on your kids taking part in activities. New surveys are added regularly throughout the day, so whatever time you choose to work, you will find that we have surveys available.
Choose the best surveys.
The surveys available vary in terms of their requirements, time for completion and reward. Choose the surveys which match your profile and offer you the best reward based on the time required.
Do I need any specific knowledge or equipment?
Superpay.me is free to join and free to use. You can access our surveys and offers either using a computer, laptop, tablet/iPad or mobile phone. All that you need to work from home is an internet connection and some spare time.
What costs might I incur?
The only cost most people need to consider is internet cost from their internet service provider. If you already have an internet connection, it's likely your already paying for this, and therefore no extra costs would be incurred. You can always look at other options such as free wifi available at local coffee shops and restaurants.
How do I get paid to work from home?
We send payments via Paypal, Skrill, bitcoin and Gift Cards. You simply need to ensure that you have an account for payment to be sent to via Paypal or Skrill, or an email address for requesting any Gift Cards.
Is there a minimum value to request payment?
Yes, you need to earn at least $1.00 at Superpay.me and then you can request payment via Paypal. Other payments methods require a $5 minimum, with Bitcoin being slightly higher. Please be aware that these limits can change at any time.
How quickly do I receive payments?
We understand that people working from home are looking to have their payments sent quickly. All payment requests are verified for security, and then verified payments are issued within 24 hours, but usually a lot less. Most payments are sent to your requested Paypal account in under 4 hours.